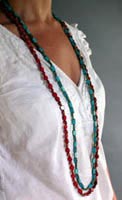 Long Necklaces are approximately 44 inches long and are made to be worn a variety of different ways. They can be worn three times around the neck as a choker, once around as a long necklace, or two times around (one short strand one long strand). They can also be worn layered in different colors (more than one necklace) for a different look.
Short necklaces and Heart necklaces range from approximately 14 to 15.5 inches. They are made to be worn as a choker but can be custom made in any length.
All necklaces stretch to create a perfect fit and are fastened with a sterling silver toggle clasp.